So, the minute I clapped eyes on this bag (oh, about five and a half years ago) I wanted it more than I'd ever wanted anything in my life...
Obviously at the tender age of 20 - who am I kidding, even at the slightly riper age of 26 - I don't have the dough for a Balenciaga, but thankfully, the lovely people at Lush came up with 'their own version' (read total rip-off) which some amazing people bought me for my twenty-first.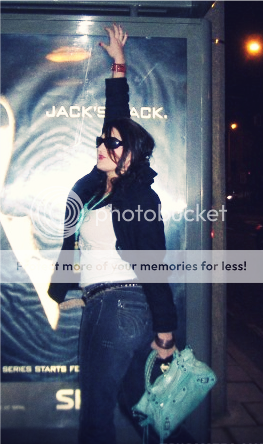 It went everywhere with me... even to the fancy-dress party I'd just been to above, where I was inexplicably dressed as a Guns 'n' Roses groupie. After reading how Mary-Kate's was stained with red wine, Marlborough Red burns and the general markings of a good night out, I became a little devil-may-care with its welfare, and it bears the scars today.
When the picture of Mary-Kate popped up on Olsens Anonymous last week, it made me dig out the little charmer, and vow to start taking it places again. It deserves to be seen. Now I just need that amazing neon pink nail varnish I've been coveting for years - any suggestions?