Last night I swooped by Topshop for one thing, and came out with three. Thankfully they were all make-up, otherwise I would have seriously destroyed my July clothing embargo.
Regular readers will remember my quest for a red lipstick, and I thought, before diving headfirst into an expensive Mac purchase, I'd try something more thrifty and see if I wear it often enough to warrant the big investment.
So I picked up Topshop Lip Stick in Flame.
Here's the rather embarassing picture of me wearing it...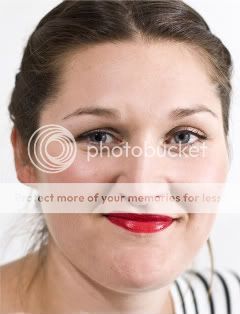 (pic by David Cotter)
You see, whenever I've tried to take lippy pictures myself in the past they are blurry, or washed out, or a totally different colour to real life, so I asked my photographer colleague to lend a hand. I asked him to just crop the lips but he wouldn't play ball.
No, I haven't had a stroke, I just appear to have a rather droopy eye... who knew! Anyway, the stick is very pigmented, to the point that it's actually quite nervewracking to apply without a brush. It's quite versatile; nice and shiny, matte if you blot. I did somewhere in between here.
It lasted around two hours before I needed to reapply, and surprisingly for a pencil it isn't drying - it's more of a regular lipstick in pencil form. Altogether, this product is really impressive for £7.
The only problem is, I just realised I now also need a big fat pencil sharpener.
PS I didn't take a 'swatch' hand photo, because I'm never sure how useful it is to know what a lipstick looks like on your hand, unless you are comparing a few? Please do let me know though if you find these helpful though!
UPDATE: This lasted about 5 hours, including a strenuous aerobics class! It's amazing!